7 Reasons Arizonans Should Use 211
Written by Valley of the Sun United Way
Published on Feb 10, 2021
About: 2-1-1 Arizona, formerly known as Community Information and Referral Services, was founded in 1964 and incorporated as a private, nonprofit 501(c)(3) organization in 1979. In 2017, Crisis Response Network, Inc. acquired the program, which transforms lives by linking individuals and families to vital services throughout Arizona.
In a crisis or disaster, 211 is here to help every person in our community find food, pay bills and connect to other essential services. During the pandemic, our United Way promoted 211 Arizona as the number to call for COVID-19 help and questions.
Our 211 is part of a national network, united to help as many people as possible. We, along with many other nonprofit partners, reach out to 211 Arizona for reliable data to help us make better data-informed funding decisions.
Here's why you should use this vital service—and let others know about it, too.
1. 211 provides connections to many kinds of resources and services, including:
Crisis and emergency counseling for mental health concerns, domestic violence, sexual assault and human trafficking
Disaster assistance
Food
Financial assistance, literacy and coaching
Health care and insurance assistance
Stable housing and utility payment assistance
Unemployment services
Veteran services
Child care and family services

2. Our 211 specialists are amazing listeners! They do more than "patch people through" to agencies. Instead, every call is answered by a real person, a caring expert who offers comfort, hope and solutions - from the first hello to the final connection to help.
3. 211 is simple and easy to use. The service is free, confidential and accessible 24/7/365. It's also available in more than 180 languages.
4. There's more than one way to use 211. You can dial 2-1-1 on your phone and speak to a trained 211 specialist. Or you can browse local resources on 211arizona.org. The service is also available by text, web chat and email.
5. 211 tackles problems at the roots. In fact, 211 specialists are trained to identify and address the underlying root causes of a client's problem – and connect them with a wide range of available resources that meet all the underlying needs, not just the one that prompted the call, text or email.
6. 211 Arizona received over 242,307 calls since COVID-19 hit last year. During the COVID-19 pandemic in 2020, calls to our local 211 nearly tripled from the previous year. 211 is available to help anyone, no matter their situation, income level, or their gender, age, race, religion or sexual orientation.
Top 5 reasons for calling: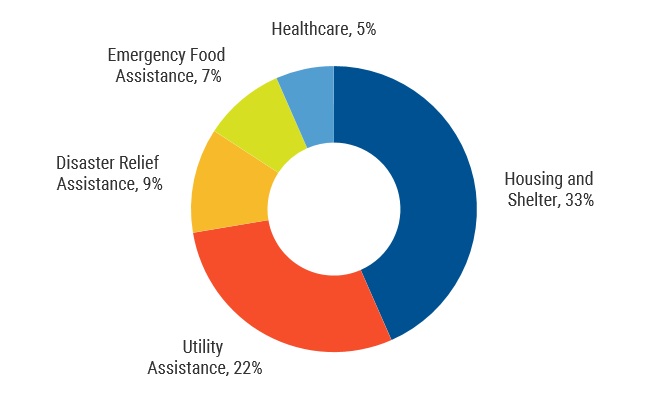 7. 211 responds to new needs with innovative services. The COVID-19 pandemic brought the need to change the way many services operated – including community resources that provide food and other essential supplies. In the middle of the pandemic, United Way and Door Dash launched the Ride United Last Mile Delivery Program to help people get access to the food and household supplies they needed. The program enables delivery services from local food banks, food pantries, and other distribution points to older adults, low-income families and those who can't leave home, providing meals to those in need.

---
Learn more about 211 Arizona's local impact in their detailed report HERE.
In honor of 2/11 Day, we want to thank 211 Arizona for easily connecting those in need to all available health and human services in our community. We know no matter the situation, the specialists listen, identify underlying problems, and connect people in need with resources and services in their community that improve their lives. From hello to help, 211 is here to activate solutions.
How You Can Spread the Good News:
Visit Their Website
Follow Their Social Media Sites
https://www.facebook.com/211Arizona/
https://www.linkedin.com/company/community-information-&-referral
https://twitter.com/211arizona
Hand Out Informative Wallet Cards
Help others connect with services by handing out these cards you can print at home HERE, or you can fill out the form on their site, and they will send you up to 200 cards at no charge, as a thank you for spreading the information.