Q&A With Our New Engagement Director
Written by Valley of the Sun United Way
Published on Jun 24, 2020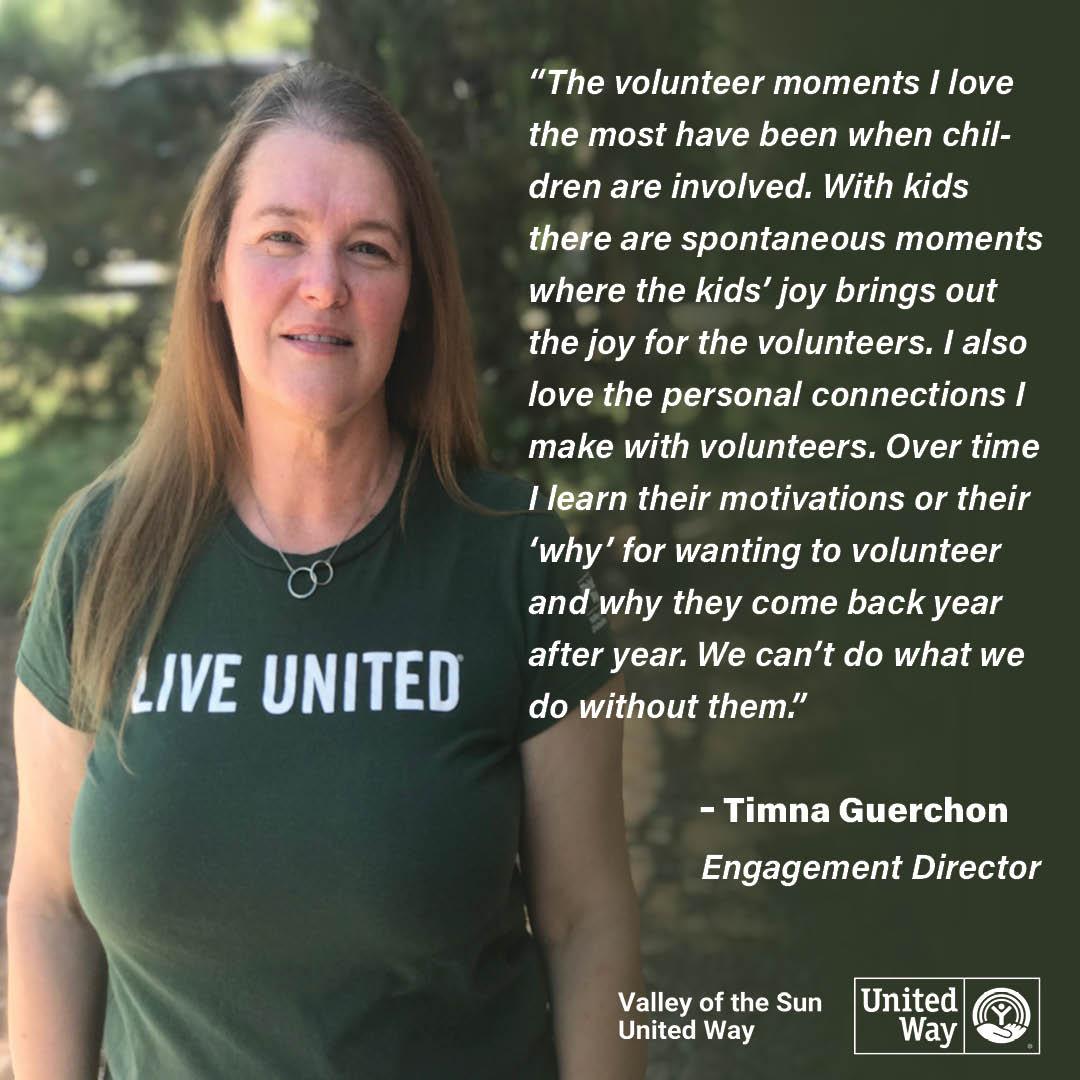 Timna Guerchon, started her career at Valley of the Sun United Way as a Loaned Executive Admin in 2011. Having enjoyed her experience, she came back to assist the LE program again in 2013 and was hired on full-time as the Volunteer Coordinator. She was a huge part of building a new engagement program from the ground up with volunteer events growing from 100 to approximately 250 a year.
"Our Education work is a passion for me. I like providing the opportunity for kids to have an equal chance for a quality education - to experience fairness and feel loved and valued, which each child deserves," shared Timna. Over the past few years, she was promoted to serve as the Engagement Manager and the Sr. Engagement Manager, which ultimately led to her current role, running the volunteer department. United Way congratulates Timna on her well-deserved promotion.
Tell me a favorite time you had while serving as the Loaned Executive Admin (2011 & 2013 classes). – "What I always loved about the Loaned Executive program is the collective moment the LE's experience, when the clouds part and the entire group 'gets it' and understands what United Way is all about. They discover the road they're on and how they can help share our mission."
Do you have a favorite volunteer moment? – "The volunteer moments I love the most have been when children are involved. With kids there are spontaneous moments where the kids' joy brings out the joy for the volunteers. I also love the personal connections I make with volunteers. Over time I learn their motivations or their 'why' for wanting to volunteer and why they come back year after year. We can't do what we do without them."
How has your background in theater helped you in your current role? – "I have a Master's Degree in theater and my performance background has provided an ease at 'winging it' when public speaking and I have an ability to connect with the audience when I'm storytelling."
If you could act in any a theater production, what would it be? – "I have a passion for Barefoot in the Park, a 1960s romantic comedy by Neil Simon. I love comedy!"
If you or your company are looking for ways to stay engaged in our community, Timna manages our Volunteer Portal that hosts a variety of ways to stay involved, with your safety in mind. If you have any questions, or want to coordinate donations please contact her at 602-622-3688 or tguerchon@vsuw.org.