School Readiness Kits Help Boost Learning and Confidence
Written by Valley of the Sun United Way
Published on Feb 16, 2021
Did you know that 54% of Arizona 3rd graders did not reach "proficient" on the AzMERIT Reading Test?
At Valley of the Sun United Way, we believe early education is a key element to a child's journey to success. We activate change for kids in our community by:
Improving access to quality early child care
Fostering childcare center quality improvement
Improving caregiver training
Offering access to child care scholarships and School Readiness Kits in select communities

School Readiness Kits were designed with a child's success in mind. Since 2008, we've distributed over 175,000 kits to children ages 3 to 5 throughout Maricopa County. Today, in partnership with Scholastic, those kits are available to the public, ensuring all children, parents and teachers have access to tools and resources to achieve school readiness.
Each kit contains three books, a detailed guide to a child's development milestones, 80+ super-fun activities and more. Completely bilingual in English and Spanish, these research-based kits make it easy and fun for families to incorporate learning into their daily routines. These kits help build the school-to-home connection before the school year even begins!
"As I was reading through the School Readiness Kit, I got emotional … It has helped me to be a better mom, helped me to utilize more patience and to interact with my child more. I am so thankful and grateful for the School Readiness Kits." — Katie, parent
---


Expert Guidance for Every Milestone
School Readiness Kits provide parents with a complete roadmap to their children's early development, helping them navigate each milestone with joy and confidence. Modeled on early learning standards, our resources make it easy for parents to help their children develop foundational skills in all the key areas of early education:
Language
Literacy
Writing
Physical Development
Health and Safety
Fine Arts
Mathematics
Science
Social Studies


Check out examples of lessons from our family guide in this YouTube series!




"The kit served as a step-by-step guide to teach my kids reading and math skills. Every single thing they do is learning, but they don't actually know they're learning. The kit is truly my treasure in a box and a tool every parent needs." — Lavinia Lim, parent

---


What's in the Kit?
Bilingual Family Guide in English and Spanish with research-based milestones and activities
Three Read-Together Books in English and Spanish to encourage family read-alouds
My First Journal — a journal for self-expression through drawing and writing
Access to digital songs — catchy renditions of children's classics (12 in English and 12 in Spanish)
Crayon pack for doodling and writing
Safety scissors to practice fine-motor skills
A bright yellow tote for learning at home or on the go!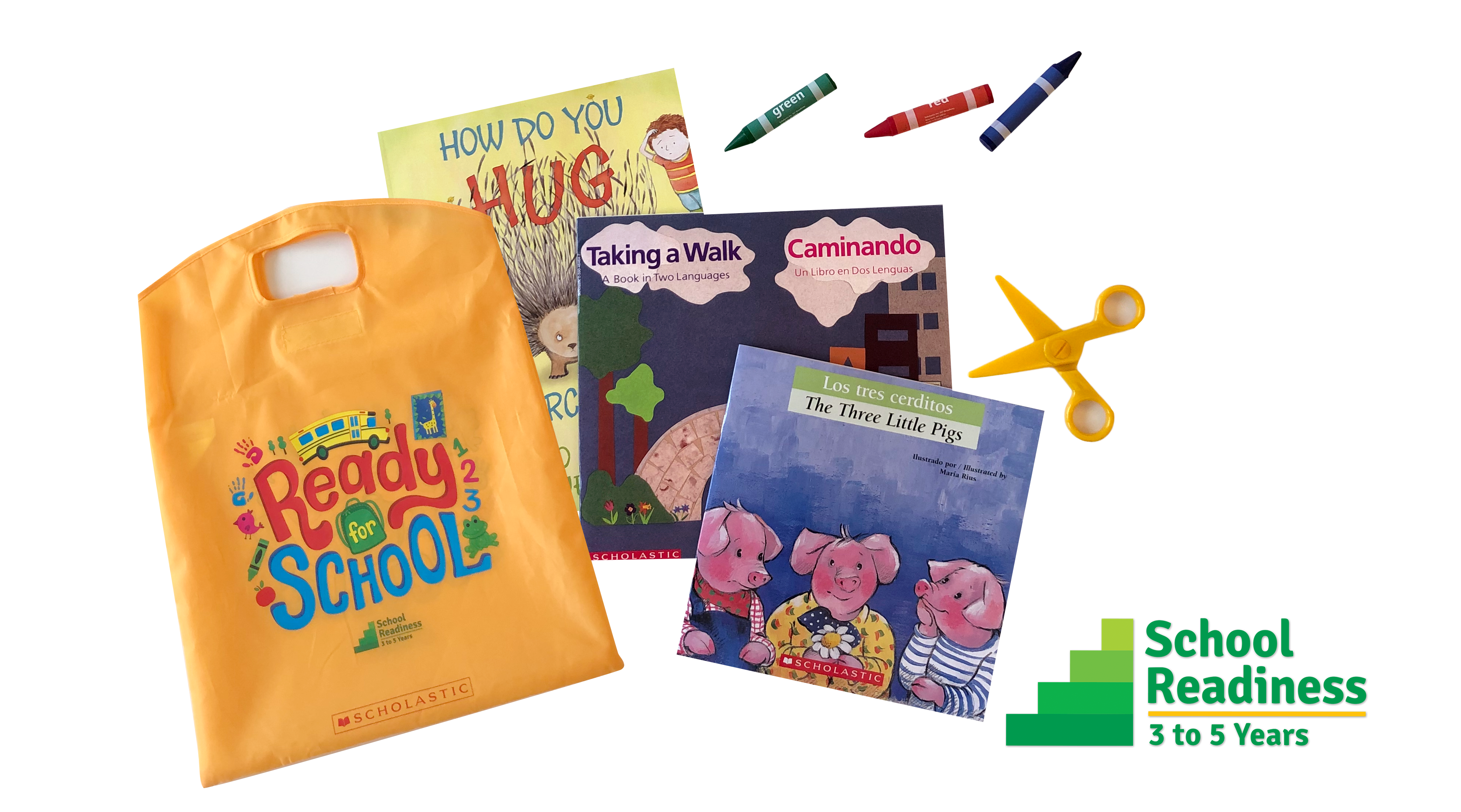 Together with Scholastic, we share the goal of ensuring that all children have the necessary tools and skills to be school-ready, and we are very grateful for the partnership!

---


Purchase your own School Readiness Kit HERE!

If you have received a Kit from us in the past, we want to hear from you! Your feedback is important to us, and your answers will remain confidential. Text "MYSRK" to 51555.