Technical Support Needed for Remote Learners
Written by Valley of the Sun United Way
Published on Dec 15, 2020
As schools returned to virtual learning in the fall, many families had to navigate this transition on their own, with limited understanding, experience and access to online learning. The Digital Divide represents an urgent concern that continues to grow in light of the current pandemic, as it reinforces existing social inequalities between various socioeconomic groups. The Digital Divide restricts access and use of information and communication technologies necessary to successfully participate in a more remote learning and work environment. These challenges have been exacerbated during the COVID-19 pandemic, as a large number of students are unable to participate in remote learning, because they simply do not have the tools to do so.
When our organization was made aware of these disparities, we mapped out a triaged way to help the community. We knew there were glaring gaps needing to be filled that would allow teachers and families to have some breathing space.
Valley of the Sun United Way, in partnership with our corporate partners, launched a "Hotline" for families in our partnering school districts (Littleton, Murphy, Buckeye, Avondale and Wilson Elementary). We trained community partners to become skilled volunteers that could staff these hotlines within each school district. More than half the available shifts were staffed with JP Morgan Chase volunteers! The IT Hotline continues to remain fully staffed with volunteers from across the valley.
"These are frustrating and confusing times for parents. It was rewarding to have the opportunity to lighten their load in some small way. " - Brian P McCarthy, CCB Operations Centralized Support Services (CSS) | JPMorgan Chase & Co
The Hotline is available Monday – Friday from 9:00am – 4:00pm and received over 130 calls in the first week alone!
In real-time, families were able to call the Hotline to get help with:
Troubleshooting basic connection to internet or learning platforms
Recovering from Zoom crashes/glitches
Training how to use Google Docs/Classrooms
Accessing digital textbooks
Switching from speakers to headphones
Connecting to a Hotspot
Linking a monitor or printer to a loaned device

While working with various departments in partnering school districts, we helped expand access to technical help, along with access to laptops and hotspots. In April, after Arizona Superintendent of Public Instruction Kathy Hoffman said that an estimated 85,000 students in the state don't have access to laptops or internet at home, we were happy to promote and encourage our network to participate in The Greater Phoenix Chamber Foundation's Laptop Drive for Phoenix-Area students. The Laptop Drive continues today in partnership with Data Doctors, a computer repair company, to refurbish donated used laptops for kids without these devices at home. There have been almost 2,000 devices donated to date.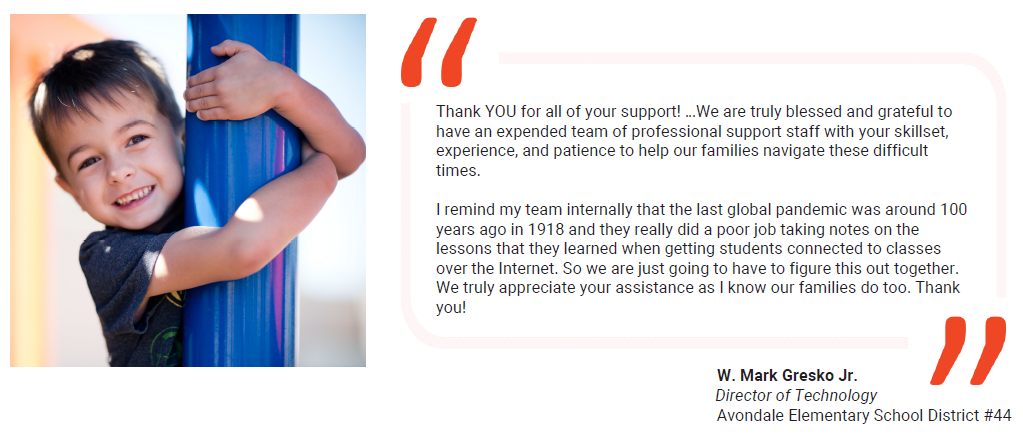 While we worked with select districts in the Phoenix area, we learned there is an obvious significant need for technical assistance to support families and students in this new virtual learning environment, which is why we will resume the service in January (after a brief pause after December 18th due to holiday break). We were very grateful that there are many tech-savvy people willing and able to help – we couldn't have done it without activating our caring volunteers!
If you are interested in learning more or partnering with our organization to be included in this technical support hotline, please reach out to Melissa L. Boydston, Vice President of Community Development at 602.377.2948 or mboydston@vsuw.org.