United in Good News: Florence Crittenton
Written by Valley of the Sun United Way
Published on Jun 4, 2020
Florence Crittenton is the second oldest social service agency in Arizona. Throughout its dynamic history, it has been dedicated to serving at-risk and disadvantaged girls and young women with a mission to provide every girl with safety, hope, and opportunity. Girls Leadership Academy of Arizona is a Florence Crittenton program that was established in 2011 to provide a rigorous college preparatory environment to low-income, underrepresented girls from the greater Phoenix area. Girls Leadership Academy of Arizona is dedicated to closing the achievement gap to make high school and college academic success attainable.
"The closure of our school (due to COVID-19) has been a very trying and emotional journey for our students and staff. To no longer be able to provide the school environment that is so beneficial and crucial for our students has been a very difficult situation to maneuver." - Dawn Woods | Chief Academic Officer | Girls Leadership Academy of Arizona
Ms. Cecalie Fort helped put together this heartfelt video from the teens at their Girls Leadership Academy of Arizona. We appreciated their creativity to thank our organization in this way.
In light of the COVID-19 pandemic, Girls Leadership Academy of Arizona was forced to shut down in-person classes for the safety of students and staff, but the learning did not stop. The United for the Valley COVID-19 fund provided resources to purchase the needed technology to ensure that students are still able to access their assignments and stay connected with their teachers. The gift of replacing outdated technology with new, has given staff a morale boost and has provided both students and teachers with the opportunity to utilize new teaching tools and learning experiences that they would not be able to use without this gift. Additionally, Girls Leadership Academy provided food gift cards to every student to support them and their families during these uncertain times.
"Thank you so much for providing chrome books for students. That is so amazing, especially during these times when students have to learn virtual and it's a huge adjustment that many of us are not used to. Your kind donation means a lot to the GLAAZ students. You have provided us with better learning material that will help improve our learning environment." -Israel Balikolo | Student | Girls Leadership Academy of Arizona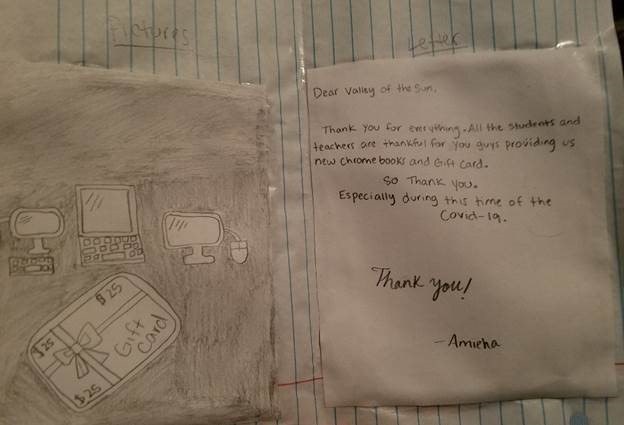 We share the same passion for creating new beginnings for young lives. Thanks to your support, we can fund programs like this and make sure all students in Maricopa County have access to educational resources and feel confident to chase their dreams.
For more information on grants distributed in the community as of 06/01/20, please visit www.vsuw.org/covid19grants. To learn about our organization's first seven weeks of local response (March 20-May 8, 2020) read our 'Response Report' available at www.vsuw.org/covidreport.

>> Donate Today