Vello Supports Students and Engages Volunteers During Pandemic
Written by Valley of the Sun United Way
Published on Jul 24, 2020
With schools shutdown due to the Covid Pandemic, a new learning gap has manifested, which is similar to Summer Learning Loss. The "Covid Slide" is estimated to cause up to 50% of academic year '19-'20 learning to be lost (NWEA. April, 2020). Add that to Summer Learning loss, which is already a major hurdle for United Way partner schools and we have a major education issue.
Vello, our virtual reading program, pivoted immediately to offer online reading sessions between volunteers and students while they were home due to school closures. Valley of the Sun United Way also worked with community partners to identify technology needs and connect students with devices so they had an opportunity to continue learning during closures.
Thanks to community support, our Vello Program maintained most reading sessions through the end of the school year and supported teachers, students, and parents in the community effort to prevent Covid Slide.
Realizing that students may be faced with distance learning again in Fall '20, the VSUW Vello Team established a Summer At-home Pilot with the Murphy School District in Phoenix and the United Way of Greater Philadelphia to:
Support students during Summer and address Summer Learning Loss
Establish a set of best practices to continue supported students with virtual reading sessions in the upcoming school year
We are proud to say that our Summer Pilot has impacted over 100 families and we are ready to support students no matter the environment this Fall – home or in school. We are committed to pivoting the Vello Program as the world evolves. Our nimbleness is representative of how United Way roots itself in innovative strategies to meet the needs of our community.
Covid has also forced many businesses to maintain a virtual work place for the foreseeable future. Many companies are restricting in-person volunteer engagement and shifting to virtual opportunities. The good news is that Vello is a great method for corporate and community volunteers to virtually impact their community, removing health concerns without limiting the potential for impact.
We remain active in recruiting volunteer teams and sponsors to support local classrooms through 1:1 virtual reading sessions which are 30 minutes, once per week. The best schedule is that you can choose your own schedule. Getting started is easy: 30 minutes to onboard, screen, and train.
I absolutely love volunteering through Vello! It is so exciting to work with the students, and help guide them through this learning process. The best part for me when you can hear the 'light-bulb go on' and the student truly understands what they are reading and how they can relate to the story. It is exciting to see how the student progresses throughout the semester and to think that you were able to be their partner through it. Thanks for allowing us to take part in such a great experience. - Desiree K., Vello Volunteer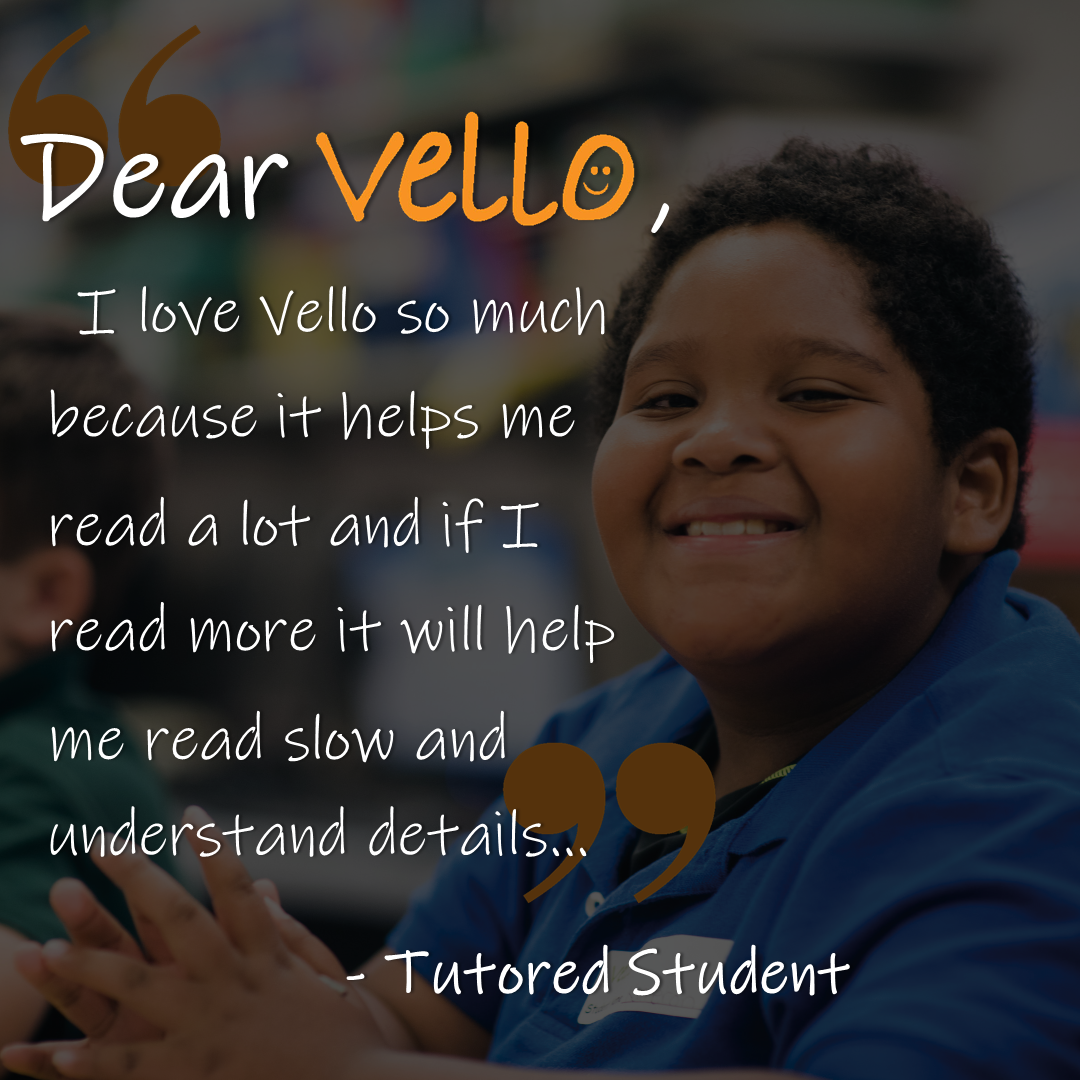 Our Vello National Director discussed the Covid Slide, Vello's innovative pivots, and how volunteers can become a virtual reading volunteer in a recent radio interview. Click HERE to listen.
To learn more visit Vello.org to view our flyers, videos, and our Impact Report.
Sign up to be a Virtual Volunteer or form a virtual volunteer team with your co-workers. SIGN UP HERE!